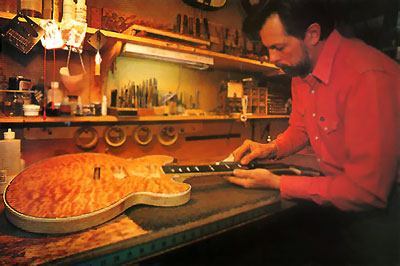 Photo courtesy of Larry Hodge
Michael Stevens is one of the world's finest builders of electric stringed instruments. His skills have been refined to a remarkable level over years of hands-on work and study in his craft. His designs are informed, but not constrained, by the great instruments of the past.
The result: instruments that feel classic and "right", with an artfulness that is unique to this premier luthier.
Primarily building electric guitars, basses and mandolins, Michael's instruments share traits such as perfect balance in playing position, a comfortable neck, and body contours that encourage a comfortable playing angle. The superb craftsmanship is clear to the eye but is revealed in more subtle ways. Great truss rod implementation and solid neck joints give all Michael Stevens instruments superb tone and sustain as well as superior "tune-ability" – the characteristic of not only being easy to tune but staying in tune.
Michael's career as a luthier began in the Bay area in 1967 when he teamed up with Larry Jameson at the first location of Guitar Resurrection in Oakland. Jameson knew guitars and how to fix them, but many things he did the slow way – by hand. Michael brought to the team, a knowledge of tools and an understanding of mechanical drawing. Very soon, they were turning out first rate repairs and meticulous customizing at a competitive price. In 1974, Michael decided to leave Guitar Resurrection to pursue a career in his first passion, horses. He trained Arabian show horses for four years, spending those years on the road before burning out and reuniting with Larry Jameson in 1978 at the new Guitar Resurrection located in Austin, Texas.
Soon after, Michael opened up his own shop in Austin and his first big job was Christopher Cross' well known Strat shaped double-neck guitar as well as the Paul Glasse electric mandolin and the Roscoe Beck – Spencer Starnes six string basses. Repair and custom work for guitar greats such as Stevie Ray and Jimmie Vaughn, Eric Johnson, Albert King, Otis Rush, Hubert Sumlin, Lonnie Mack, Ray Benson, George Thoroughgood, to mention a handfull, kept Michael very busy. During this period, he built the Guit-steel for the "Wild Man of Country", Junior Brown.  Michael has since built two more for Junior in Alpine, Texas.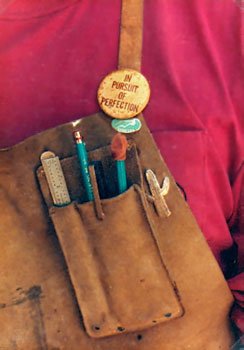 By 1986, his work had attracted the attention of Fender and when they finally made him an offer that was too good to turn down, Michael moved to California to become the Founder and Senior Design Engineer of the Fender Custom Shop along with design engineer, John Page. Whilst there, they designed and built many of the instruments that Fender's endorsement artists have played including the Eric Clapton model Strat, Danny Gatton Tele, Robert Cray Strat and the Waylon Jennings Tele. Michael Stevens became the first person in the history of Fender to sign the instruments of his creation.  The Stevens LJ which was available (and the highest priced guitar in designer series) said 'Stevens' on the front of the headstock and "Fender Custom Shop" on the back. Moving to Alpine, West Texas in 1990, Michael once again opened his own shop and since that time, has been producing the models presented here in this brochure as well as special designs to order. Michael Stevens' fame has spread worldwide and satisfied owners are as far abroad as Europe, Japan, Australia and the U.K.
---
Images courtesy of Todd Jagger –
http://www.toddjagger.com