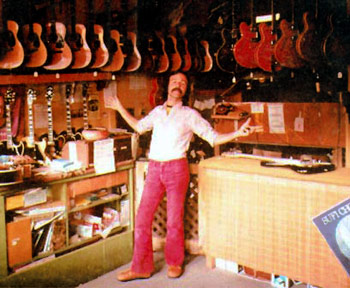 Larry Jameson
1943-1983
A refugee from an art school like myself, fate threw us together some-time in the late '60s in Berkeley, California. We were dating the same woman.
Larry was starting a guitar repair shop in the tenderloin area of Oakland. It was near Leo's Music and up above an amp shop called Magic Music Machines.

Synopsis: He got the girl, I got a job.

Less than six months later, we moved to an old meat market at the corner of Rose and Grove in Berkeley and the real Guitar Resurrection was born. It would later move to Austin, Texas without me.

Larry taught me what a guitar really was and I taught him how to do it faster with power tools and jigs. We were a perfect team.Mr. Larry, as he was called then, was my best friend and guru of flea markets. He really loved single cutaway guitars, Danelectros especially. And for that reason, I named this guitar in his honor, the LJ.

May his memory live forever

M.S.